Lillian

Moderator

Time Online :

10m 32s




State

:

Abuja


My Club :


Posts

:

128

Posts Liked

:

44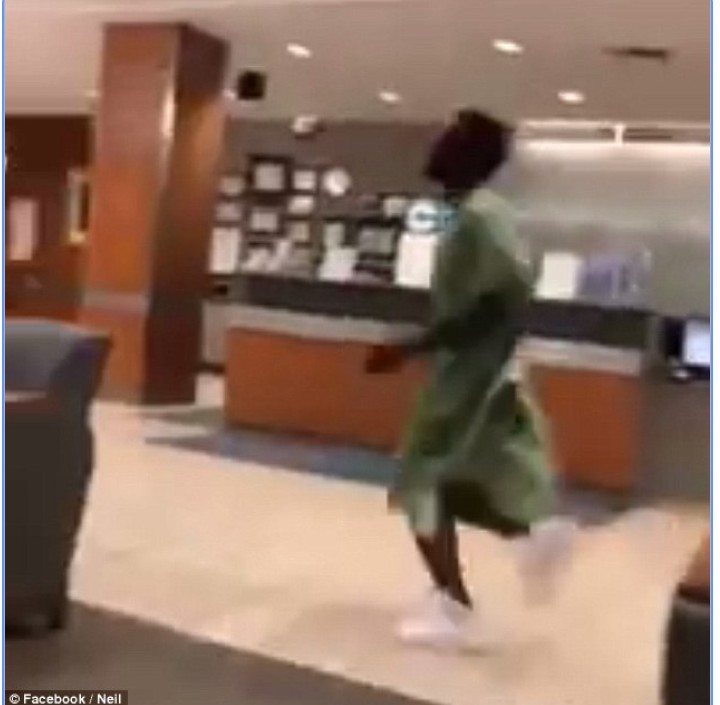 What could be in his phone that made this man jump from hospital bed to get the phone from his girl friend.
Anyways, people enjoy their privacy and will do just about anything to keep it secure.
And that was certainly the case for a patient in a Kansas City hospital who jumped on his girlfriends car after she took his cellphone.
'Y'all, see a girl go through here?
She took my phone?
f*ck man,'
said the unlucky man as he runs to the parking lot in a hospital gown.
'Oh sh*t hospital, there's some sh*t always going down,'
the cameraman narrates as he quickly follows the man outside.
'Where the fu*k she at bro?
the man screams as he searches for the woman's car.
And once he finds her, he immediately runs at her and screams
'Hey, where my phone?
'Don't worry bout it,'
the woman can be heard shouting back as she starts the engine for her car.
'Why you going through my phone,' the irate man asks trying to get his mobile device back from the scornful woman.
As the man continues demanding his phone back, the woman in the car starts her vehicle and begins moving.
'Bit*h, don't hit me, the cameraman asserts as the woman drives off.
But he didn't give up, demanding his phone and jumping on the trunk of the car as the woman speeds down the road.
It is unknown what came of the man and whether or not he was able to get his phone.
http://www.dailymail.co.uk/news/article-5532595/Man-jumps-hospital-bed-chase-girlfriend-taking-phone.html

Yes! You will not like to comment to this topic but I'll not stop to post new and great topics....
Webtech

Moderator

Time Online :

4h 8m 25s




State

:

Ph


My Club :


Posts

:

153

Posts Liked

:

109




Awards

:

---
funny enough. I personall wonder... wat could be in the fone as well

Hello Guest ! Do you wish to post    your information in our forum as a Guest ? If that is what you wish, then you are most welcomed  to this community. Simply send the information you wish us to post on your behave @ Contact Us  or you can simply Register in our forum and make the post yourself . Registering in this forum is very simple and painless . It just take few seconds   and you are done.

Thanks for reading our post. We recommend that you always visit our forum and please do not forget to leave a comment below. BYE  !!!



Create an account or log in to leave a reply
You need to be a member in order to leave a reply.
Log in
Already have an account? No problem, log in here.
Log in
---
Permissions in this forum:
You
can
reply to topics in this forum